Best Practices & Innovative Strategies

Vision
Committed to having the most innovative and cutting edge evidence-based organization (EBO) in community corrections.
Purpose
Implement best practices throughout the entire Department with fidelity to improve outcomes for our staff and community.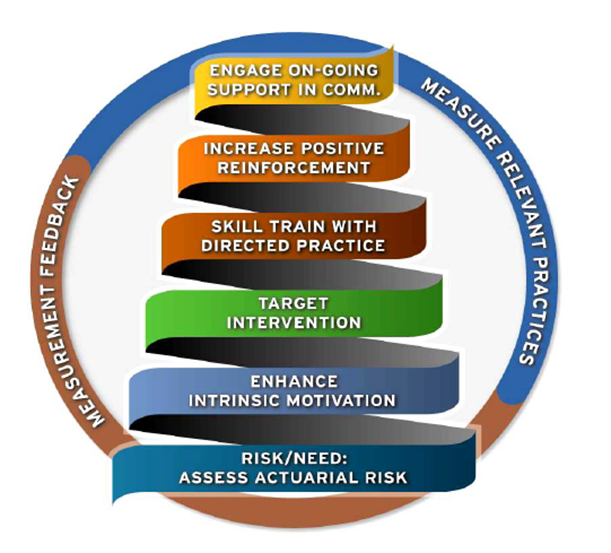 THE EIGHT PRINCIPLES OF EBP FOR EFFECTIVE INTERVENTIONS
Principle
Description

Assess Actuarial Risk/Needs

Assess static and dynamic factors
Identify unique risk and needs
Use as foundation for Evidence-Based Practice supervision and treatment

Enhance Intrinsic Motivation

Use motivational interviewing skills
Explore ambivalence to change
Facilitate a strong internal motivation to change

Target Interventions

Risk: Prioritize treatment for clients assessed at higher risk
Need: Address the client's greatest dynamic factors
Responsivity: Pair the client's characteristics to services
Dosage: Match the level of services to the client's assessed risk
Treatment: Deliver targeted and timely treatment

Skill Train with Directed Practice

Use cognitive-behavioral treatment strategies to address and enhance thinking, socialization, and communication skills
Conduct role-play with clients

Increase Positive Reinforcement

Encourage behavior change with positive reassurance
Use rewards, affirmations, and incentives
Deliver four positives to every one negative reinforcements (4:1)
Use swift and specific sanctions for infractions when necessary

Engage Ongoing Support in Communities

Identify positive community support
Enhance pro-social activities in the community

Measure Relevant Processes/Practices

Assess change in client's behavior and effectiveness of staff and services
Document and measure outcomes

Provide Measurement Feedback

Build motivation and accountability through routine feedback
THE BIG FOUR DYNAMIC FACTORS
Dynamic Factor
Response

Cognitive Behavioral

Recognize risky thoughts, feelings, and beliefs that may lead to criminal/negative behavior
Reduce immediate anti-social cognition
Sustain long-term pro-social cognition

Social Environment

Reduce contact with associates who engage or encourage criminal activities.
Enhance contact with associates who support pro-social activities

Personality

Build problem solving, decision making, self-management, anger management, and coping skills

Family and/or Marital (Partner or Significant Other)

Reduce familial/marital/partner conflict
Recognize and enhance healthy relationships
Build positive communication skills.
THE LESSER FOUR DYNAMIC FACTORS
Dynamic Factor
Response

Substance Misuse

Reduce substance usage
Avoid situations and environments that encourage substance misuse
Enhance positive alternatives to substance misuse

Employment

Enhance employment skills
Maintain gainful employment

School

Explore educational and vocational training
Expand education opportunities

Family and/or Marital (Partner or Significant Other)

Engage in pro-social activities
Adapted from: Andrews, Donald A (2007). "Principles of Effective Correctional Programs", in Motiuk, Laurence L. and Serin, Ralph C. (2007). Compendium 2000 on Effective Correctional Programming. Correctional Service Canada. csc-scc.gc.ca/text/rsrch/compendium/2000/index-eng.shtml
ACPD's Top 10 COMPAS Assessment Dynamic Factors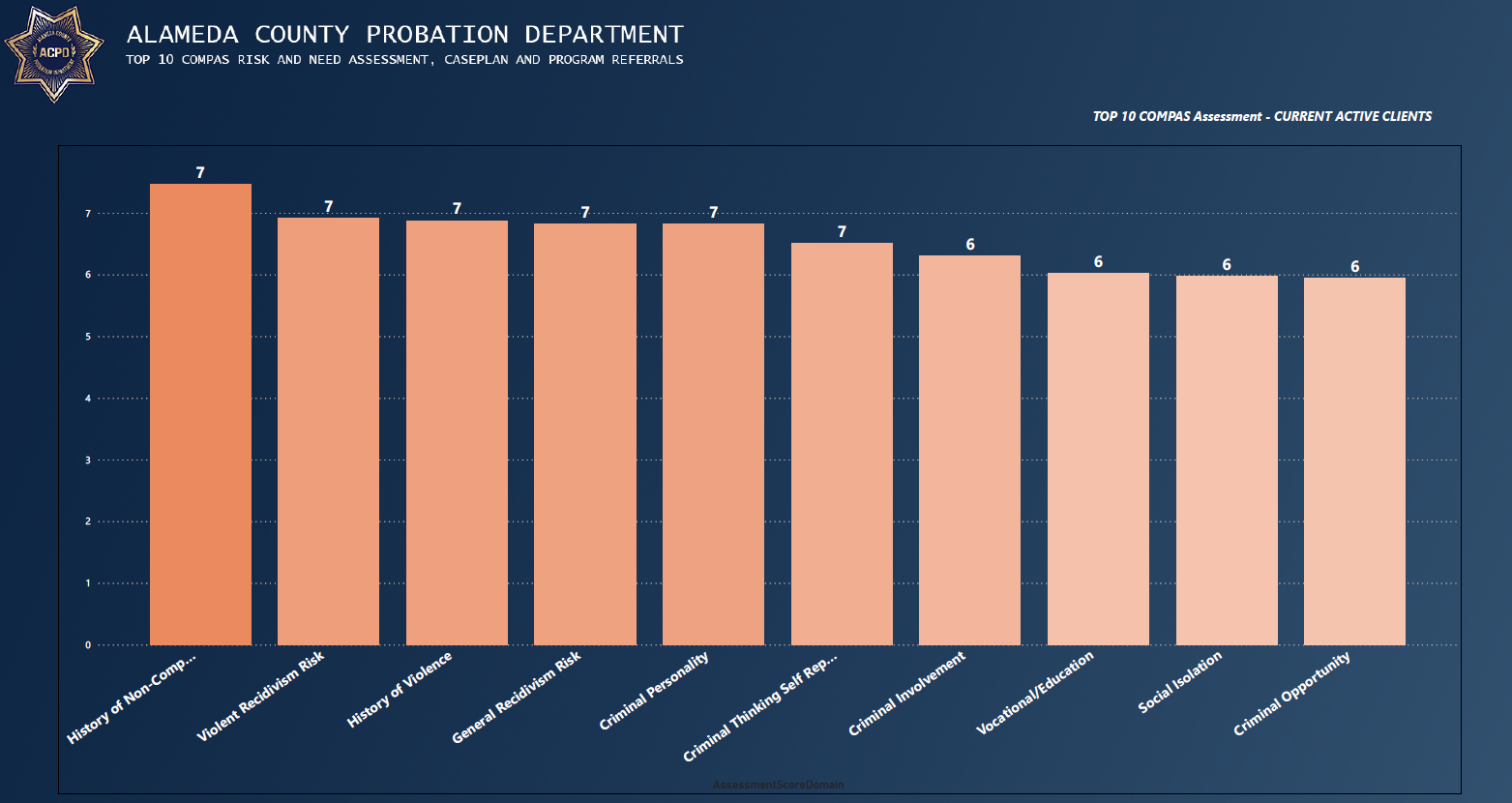 ACPD's Top 10 Case Plan Needs and Top 10 Program Referrals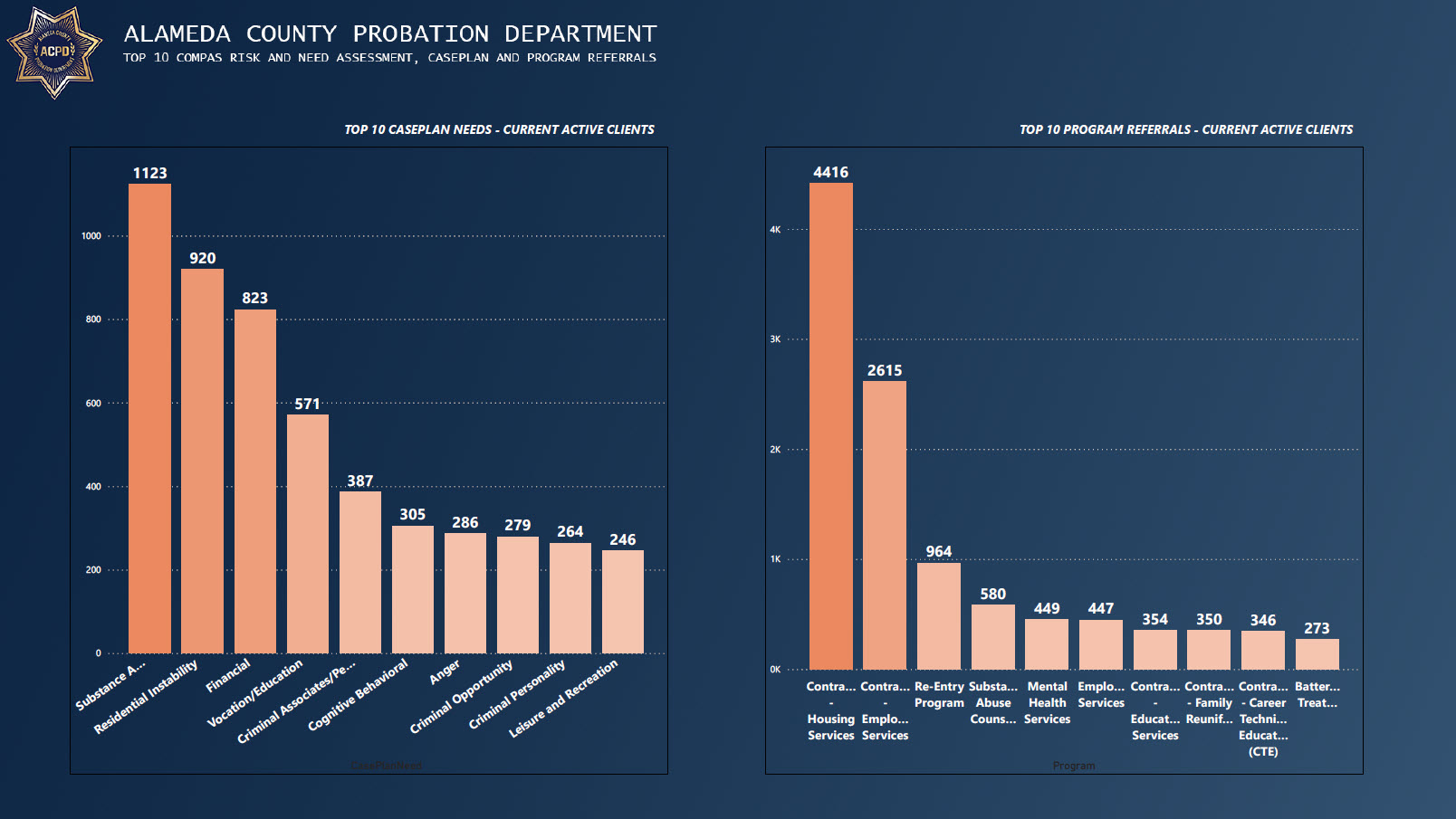 RESOURCES
BP BLASTS
| Date, Issue | Links |
| --- | --- |
| October 2023, Issue | |
| August 2023, Issue | |
| April 2023, Issue | |
| February 2023, Issue | |
| December 2022 Issue | |
| October 2022, Issue | |
| August 2022, Issue | |
Below is a list of internal and external, web-based resources that can be used to find information about Evidence-Based Practices (EBPs), best practices and other research-driven programming that has been found to be effective in supporting our juvenile and adult clients through their reentry journeys.
Please click on links below to access the following resources.
Resources
Description

Carey Group Publishing

Short, practical, easy to use guides to help clients change their behaviors in critical skill deficit areas and encourage healthy lifestyles.

Title IV-E Prevention Services Clearinghouse

Administration for Children and Families (ACF)

A list of rated programs and services (well-supported, supported, promising, or does not currently meet the criteria) intended to provide enhanced support to children and families and prevent foster care placements.

Results First Clearinghouse Database

Pew Charitable Trusts

One-stop online resource to find information on the effectiveness of various interventions as rated by nine national research clearinghouses.

Resources for Evidence-Based Programs

Board of State and Community Corrections – California (BSCC)

Websites and online reports featuring listings and assessments of evidence about effective practices and programs for criminal justice practitioners, planners, and policymakers.

What Works in Reentry Clearinghouse

The Council of State Governments (CSG)
A "one-stop shop" for research on the effectiveness of a wide variety of reentry programs and practices.

Evidence-Based Programs Resource Center

Substance Abuse and Mental Health Services Administration (SAMHSA)
Evidence-based repository and review system designed to provide communities, clinicians, policymakers, and others in the field with information and tools to incorporate evidence-based practices into their communities or clinical settings.
National Institute of Justice (NIJ)
A web-based programs and practices clearinghouse with identification and rating processes.

California Evidence-Based Clearinghouse for Child Welfare (CEBC)

California Department of Social Services (CDSS)
Searchable database which provides descriptions and information on research evidence for child welfare-related programs.

Blueprints for Health Youth Development

University of Colorado

A registry which identifies evidence-based interventions that are effective in reducing antisocial behavior and promoting a healthy course of youth development and adult maturity.

Teen Pregnancy Prevention Evidence Review (TPP)

US Department of Health and Human Services (DHHS)

A list of effective programs to reduce teen pregnancy, sexually transmitted infections, and associated sexual risk behaviors.
LIBRARY
EVIDENCE BASED PRACTICES/BEST PRACTICES ARTICLES
| Title | Description |
| --- | --- |
| | An overview of what Cognitive Behavioral Therapy (CBT) can do and what it can treat. |
| Becoming an Evidence-Based Organization: Five Key Components to Consider by D. Myers | An outline of the five key components of organizational development needed to become a comprehensive Evidence-Based Organization (EBO). |
| Implementing Evidence-Based Policy and Practice in Community Corrections by M. Guevara and E. Solomon | Review of the three components of the Integrated Model for implementing evidence-based policies and practices: Evidence-Based Practices, Organizational Development, and Collaboration. The Model incorporates both research on effective corrections practices and practical approaches needed to create and sustain an EBO. |
| Implementing Evidence-Based Practice in Community Corrections: The Principles of Effective Intervention | A detailed review of the eight evidence-based principles for effective interventions. |
| Tools of the Trade: A Guide to Incorporating Science Into Practice | A manual demonstrating the application of evidence-based research findings into the practice of client supervision. |
| Smart Probation: A Study of the San Diego County Probation Department's Application of Evidence-Based Practices | An evaluation of the San Diego Probation Department's implementation of evidence-based supervision and their four project goals (support EBP leadership, implement a supervision model, provide access to appropriate intervention services, and collaborate with justice partners). |
| | A review of the six stages of change (pre-contemplation, contemplation, preparation, action, maintenance, and termination). |
| | An overview of Cognitive Behavioral Therapy (CBT) including how it works, a few techniques, and the limitations of CBT. |
| | A review of CBT techniques that may be effectively used during intervention. Techniques include behavioral experiments, journaling, cognitive restructuring, and reframing. The techniques noted here may be used in tandem or individually. |
VIDEOS RELATED TO BEST PRACTICES
| Title | Description |
| --- | --- |
| | The National Institute of Corrections provides a three-part series regarding best practices in leadership. The Leader's Dilemma: How to Balance Two Important Needs; Leadership Mentoring: Successful Succession Planning; and Dealing with Challenging Staff Members |
| A Mental Health Discovery That Could Change Criminal Justice Forever | Kim Gorgen's TedTalk discussing the association between traumatic brain injury and the criminal justice system. |
| | An animated short by Dr. Brené Brown outlines the difference between empathy and sympathy and the four qualities of empathy. |
MOTIVATIONAL INTERVIEWING VIDEOS
MOTIVATIONAL INTERVIEWING ARTICLES
| Title | Description |
| --- | --- |
| Motivational Interviewing for Probation Staff: Increasing the Readiness to Change, by M. Clark | Discussion of Motivational Interviewing in the criminal justice field and especially within probation departments. |
| | Review of the four principles of Motivational Interviewing (MI): express empathy, develop discrepancy, roll with resistance, and support self-efficacy. |
| Resistance, Motivational Interviewing, and Executive Coaching by P. Harakas (Boston University) | An examination of theoretical approaches to executive coaching, the phenomena of resistance and ambivalence, the psychological theories of reactance and self-determination, and the therapeutic approach of MI. |
| Motivational Interviewing: 8 Questions to Ask Clients to Motivate Change by M. Miller | A review of eight MI examples and questions that may be used with clients. |
| Motivational Interviewing in Criminal Justice: A New Approach to Addressing Treatment Motivation and Related Behaviors by S. Walters, E. Ressler, L. Douglas, and F. Taxman | An analysis of MI and the Motivational Assessment Program to Initiate Treatment (MAPIT) study which tests the effectiveness of MI. |
| Motivational Interviewing: Facilitating Behaviour Change by S. Barrett | A review of the basics of MI. |
| Motivational Interviewing Training in Criminal Justice: Development of a Model Plan by M. Alexander, S. VanBenschoten, and S. Walters | An explanation of the eight stages of learning MI and guidance on how to train officers to incorporate MI into client supervision. |
| Motivational Interviewing: History, How it Works, Effectiveness | A review of the basics of MI including the four techniques of the MI process: engaging, focusing, evoking, and planning. |
| Outcomes of Motivational Interviewing Training with Probation and Parole Officers: Findings and Lessons Learned by M. Iarussi and D. Powers | A study which investigated the outcomes of officers who completed MI training. The study also provides recommendations on how to improve MI trainings. |
| Motivational Interviewing Reminder Card | A two-page card providing tips on conducting MI. |
BP WORKGROUP
A newly created workgroup, led by the Best Practices Unit, will look at best practices and its practical applications throughout all aspects of departmental functions. This group will provide their feedback and input in helping the Department not only explore and assist with implementation and fidelity of best practices but help the Department continue achieving its goal of being a leader in the industry.
WORKGROUP MEMBERS
| Participant | Division |
| --- | --- |
| Shereen Khan | Best Practices and Innovation Strategies Team |
| Estial Lett | Best Practices and Innovation Strategies Team |
| Holly Axe | Best Practices and Innovation Strategies Team |
| Elijah Booker | Juvenile Facilities |
| Richetta Bottom | Juvenile Facilities |
| Anthony Cole | Adult Field Services |
| Fred Dabbs | Juvenile Field Services |
| Brian Deburr | Juvenile Field Services |
| Craig Emmons | Juvenile Field Services |
| Antonio Gomez | Juvenile Field Services |
| Janene Grigsby | Administration |
| Angelika Laszuk | Juvenile Facilities |
| Natalia Milner | Adult Field Services |
| Adrienne Mitchell | Adult Field Services |
| Tamara Scott | Juvenile Field Services |
| Norma Torres | Adult Field Services |
| Monique Woods | Juvenile Facilities |
| Tyler Zatcoff | Administration |
TEAM
| Name | Classification Title |
| --- | --- |
| Shereen Khan, MPA, CEBL | Director, Best Practices and Professional Development |
| Holly Axe, MPP | Probation Specialist |
| Estial Lett, MPA, CEBP | Deputy Probation Officer III |